A Century of Learning
Generations of DePauw students have developed their musicianship, teamwork, and leadership skills through campus music organizations like the DePauw University Band, DePauw Marching Band, and Tiger Pep Band.
Building for the Future
A network of DePauw alumni works together to provide today's student leaders with the support and resources they need to get the most from their DePauw music experience so they can create uncommon success in their future careers.
All School of Music ensembles including the DePauw University Band are open to students from across the university including the College of Liberal Arts. Many student-led music groups, like Tiger Pep Band, also offer open membership.
Students who participate in instrumental ensembles at DePauw University enjoy an enriching experience that can postively affect the rest of their lives.
Musicianship
While a student, Adam Hilkert '08 performed in the DePauw University Band and conducted Tiger Pep Band. In those ensembles, he developed his attention to detail and precision. Adam credits this practice as providing the foundation of his later doctoral studies at George Mason University and his eventual appointment as one of just 22 conductors of the U.S. Army Bands.
Students learn from award-winning faculty members and are surrounded by diverse and talented classmates in a community that's serious about musical quality.
Leadership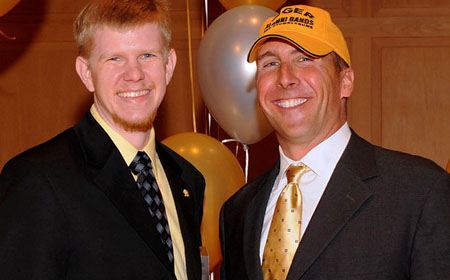 Using the skills he developed directing the Tiger Pep Band, Daniel M. Reck '03 has become a noted leader in his community and career field. Recognizing his volunteerism with the scouting movement and his support of local youth music ensembles, President Casey presented Daniel with the Community Leader Award in 2008.
When students take on the challenge of running a student group like Tiger Pep Band, they practice all the skills they need to create uncommon success. They learn how to plan strategically, manage resources, communicate effectively, and execute their vision.
Loyalty
When Dr. Sarah Mordan-McCombs '03 arrived at DePauw, she didn't even plan to join a band. She studied biology and played cello in the DePauw Symphony Orchestra, but dusted off her clarinet for the Tiger Pep Band.
Sarah is now a cancer researcher and professor at Franklin College. Like many DePauw alumni, she's come back to Greencastle to share her experience with current students and help them prepare for their future careers. Science Research Fellows has hosted her presentations about getting into grad school and she's also presented her research on campus.